Resisting Tyranny One Song at a Time
The Jersey City Resistance Choir is a community group in downtown Jersey City dedicated to raising funds and awareness for at-risk groups and organizations in our current political climate. We get together on a weekly basis to talk about current events, sing songs, and hold seasonal performances as fundraisers for groups we are sponsoring. Each season we choose a politician in the administration to "roast" and raise funds for a group that will be at-risk for disenfranchisement and loss of constitutional rights.
So far we have performed as:
The Jefferson Sessions' Christmas Choir for Muslims
Benefiting: CAIR-NJ
Paul Ryan's Choir for Planned Parenthood
The Donald Trump Choir for Words and Sentences
Benefiting: The Jersey City Public Library
The Donald Trump Choir for Bad Hombres
Benefiting: International Rescue Committee
Dr. Benjamin Carson's Glee Club for the Homeless
Benefiting: Community Hope NJ's Hope for Veterans Program
Mike Pence's Marvelous Madrigals for Equality
Benefiting: Sage Center
Kris Kobach's Chorale for Voting Rights
Benefitting: Southern Poverty Law Center
Jersey City Resistance Christmas Choir for Puerto Rico
Benefitting: World Central Kitchen, Puerto Rico Relief
Jersey City Resistance Choir for Sensible Gun Control Legislation
Benefitting: Sandy Hook Promise
Jersey City Resistance Cinco de Mayo Choir
Benefitting: Immigrant Legal Resource Center
Special Appearances:
AIDS Walk NYC 2018
Jersey City Theater Center's The Box: Resistance (June 2018)
Ghost of Uncle Joe's Harsimus Cove Cemetery Fund Raiser: Fleetwood Mac
Find us at our Facebook Group.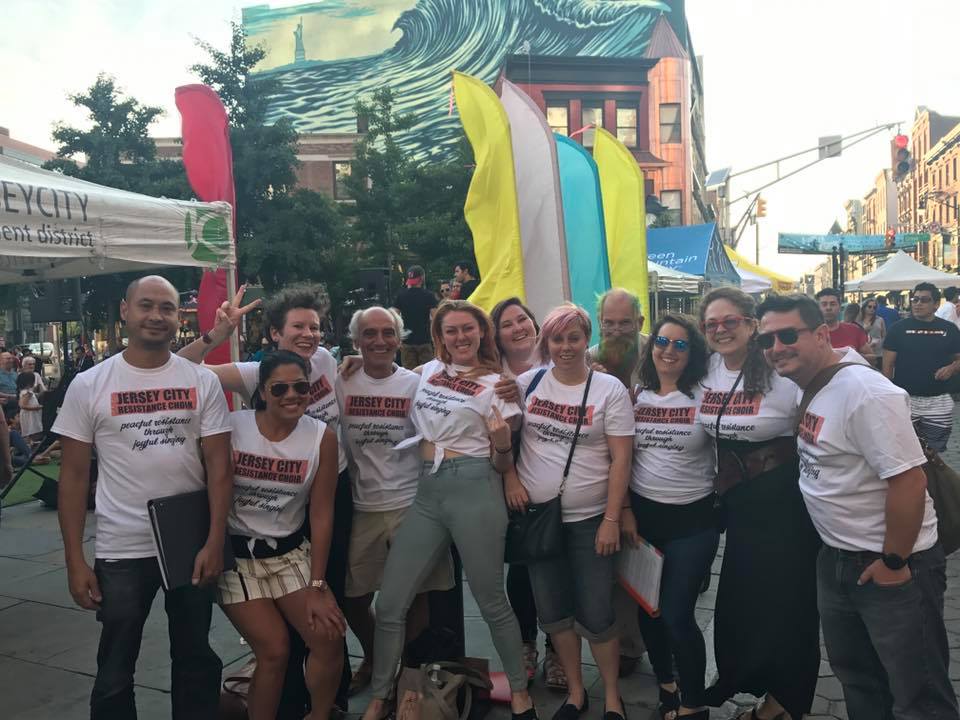 JOIN US!!!
Want to join us? We accept new members at our before weekly rehearsals. Reach out to us at jcresistancechoir@gmail.com for more information and to schedule an an in-person interview.